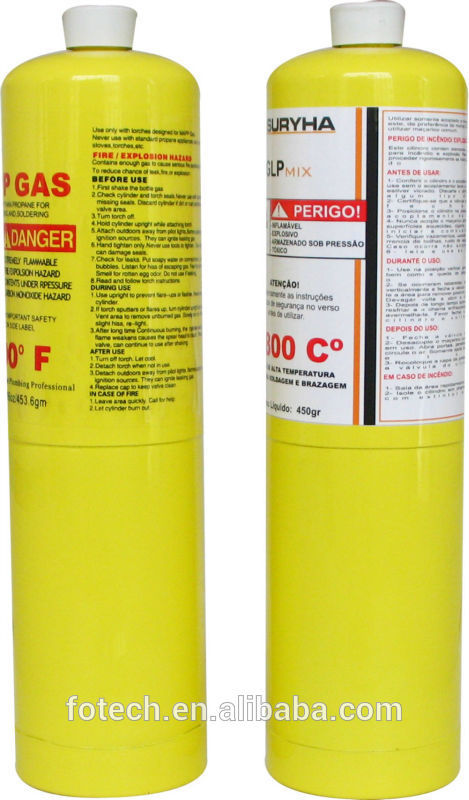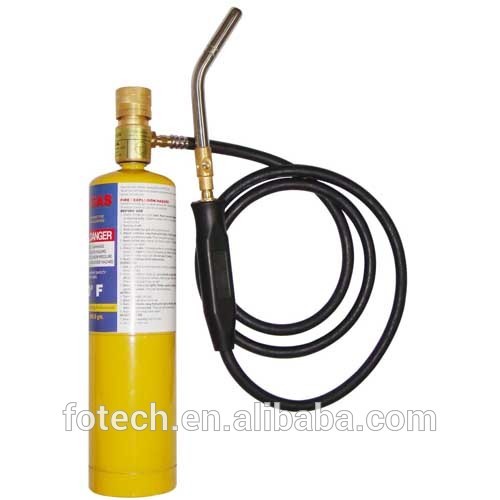 Item specifics
Other Names

PROPANE
Grade Standard

Industrial Grade
Purity

99.9%
Application

Welding
Description
MAPP GAS
BURNS HOTTER THAN PROPANE FOR
WELDING,BRAZING.AND,SOLDERING
!DANGER
EXTREMELY FLAMMABLE
FIRE/EXPOLSION HAZARD
CONTENTS UNDER RPESSURE
CARBON MONOXIDE HAZARD
READ AND FOLLOW IMPORTANT SAFETY WARNINGS ON SIDE LABEL
3600°F
Quality Products for the Plumbing Professional
Net Weight 160z/453.6gm
Use only with torches designed for MAPP Gas.
Never use with standard propane appliances such as lanterns,stoves,torches,etc.
FIRE/EXPLOSION HAZARD
Contains enough gas to cause serious fire,explosion,and burns.
To reduce chance of leak,fire,or explosion:
BEFORE USE
First shake the bottle gas

Check cylinder and torch seals.Never use with damaged or missing seals. Discard cylinder if dirt or rust particles are in valve area.

Turn torch off.

Hold cylinder upright while attaching torch.

Attach outdoors away from pilot lights,flames,sparks,or other ignition sources. They can ignite leaking gas.

Hand tighten only.Never use tools to tighten. Over-tightening can damage seals.

Check for leaks. Put soapy water on connections. Look for bubbles. Listen for hiss of escaping gas. Feel for extreme cold. Smell for rotten egg odor. Do not use if leaking.

Read and follow torch instructions.
DURING USE
Use upright to prevent flare-ups or flashes. Never drop or throw cylinder.

If torch sputters or flares up, turn cylinder upright and turn off torch. Vent area to remove unburned gas. Slowly turn on. After hearing slight hiss, re-light..

After long time Continuous burning, the cylinder will ice up, the flame weakens causes the spear head to blush.. Please close the valve, can continue to use after shaking.
AFTER USE
Turn off torch. Let cool.

Detach torch when not in use.

Detach outdoors away from pilot lights ,flames,sparks,or other ignition sources. They can ignite leaking gas.

Replace cap to keep valve clean.
IN CASE OF FIRE
Leave area quickly. Call for help.

Let cylinder burn out..

CARBON MONOXIDE HAZARD
Burning MAPP Gas makes Carbon Monoxide(CO). CO is invisible has no smell and can kill you. Burning MAPP Gas in a tent.,camper,van or other enclosed area can be dangerous.
Use only in well ventilated areas. If you experience headache,drowsiness,or mausea,turn unit off and get fresh air quickly.

Never use where people are sleeping
HANDLING & STORAGE
Keep out of reach of children.

Never expose cylinder to heat,sparks,or flame. Never leave in direct sunlight.Never store at temperatures above 120

°F

.

Never store in living spaces.

Never refill this cylinder.Refilling may cause explosion.

Never put in luggage or take on trains or aircraft.

To discard,contact local refuse hauler or recyle center.Never put in fire or incinerator, Do not Puncture.
WARNING:
This container and byproducts of the combustion of its contents contain chemicals known to the State of California to cause cancer,birth defects,or other reproductive harm.